We are thrilled to announce we will be going to Seattle for the 8th annual Ready by 21 National Meeting, April 23-25, 2019. We hope you will join us!
Forum Flash: December 2011
Forum Flash: Youth Jobs, Youth Engagement, OST
Forum Flash is part of the Forum for Youth Investment's e-newsletter series. Forum Flash informs you about what's going on at the Forum for Youth Investment, and about resources, opportunities, careers and recent events.
Wanted: Jobs that Work for Students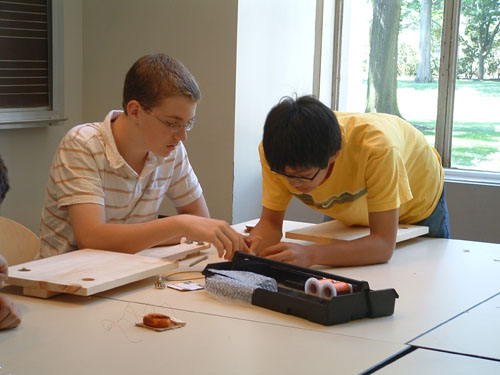 Anyone who works with students knows that balancing work and school can hinder a young person's success in higher education. However, the opposite can also be true: Good jobs facilitate student persistence and completion. So what does it look like when working works for students? That's what we need to understand in order to transform employment opportunities into drivers of student success.

This new issue brief from the Forum for Youth Investment summarizes research about employment and postsecondary success, and features examples of employers and institutions that have found creative ways to both support student persistence and advance their bottom lines by creating "college-friendly" jobs.

How to Boost Youth Engagement
At the Annie E. Casey Foundation's annual KIDS COUNT conference in Baltimore last month, Forum CEO Karen Pittman served on a panel about youth involvement in advocacy and public policy work on behalf of children, youth and their families. She shared a resource guide to Forum publications about youth engagement, which you can find here.
Speaking on another panel at the conference was Caitlin Johnson, editor of SparkAction.org, who talked about the innovative use of social media to advocate for child and youth policies.
Check out SparkAction's Social Media toolkit. (Click on Social Networking under Tools.)
New Federal Rules on Afterschool Funds: What's the Impact?
Providers wondering about the potential impact of a new federal rule about funding for afterschool programs got some insight from a webinar hosted by the Forum this month.
At issue are waiver guidelines recently issued by the U.S. Department of Education that would give states more flexibility in meeting performance standards under the No Child Left Behind Act. One of those waivers, known as Waiver 11, gives states the option to use funds from the 21st Century Community Learning Centers to support expanded learning opportunities during the school day.
A lack of clarity on how the waiver will be implemented has left leaders wondering whether quality afterschool programming will be sacrificed in the name of a slightly longer school day. Among the quetions: How should states implement Waiver 11 to effectively improve expanded learning opportunities as well as student academic success?
Hear what the education and youth development communities have to say about Waiver 11's implications for school districts and community-based organizations here.
Research on OST Recognized

Improving the quality of Out of-School time programs is impossible without good research into what works - which is why the American Educational Research Association recognizes Emerging Scholars in OST research, including Tom Akiva of the Forum for Youth Investment.

Tom, a senior manager at the Forums' David P. Weikart Center for Youth Program Quality, is profiled as an Emerging Scholar in the fall issue of the association's newsletter, where he discusses the role of research in OST program improvement. In March, Tom will present findings from his research on the Youth Driven Space project at the association's Biennial Meeting, in Vancouver, Canada. The project gets adolescents involved in leadership and governance in youth programs.

Click here to read the full story.

How To Engage Community Members

Communities across the nation are exploring how to do business differently to improve outcomes for youth and decrease dropout rates. Larry Pasti, the Forum's director of field services, recently presented at a forum to address the dropout issue in Atlanta. The Dropout Prevention Summit was part of American Graduate: Let's Make It Happen, a public media initiative made possible by the Corporation for Public Broadcasting. Larry talked about the critical importance of youth voice and how to use the Gallup Student Poll to engage community members to create collective impact.

Presentation materials and a wealth of resources from the summit are available here.

The Forum for Youth Investment is a nonprofit, nonpartisan "action tank" dedicated to helping communities and the nation make sure all young people are Ready by 21®: ready for college, work and life. Informed by rigorous research and practical experience, the Forum forges innovative ideas, strategies and partners to strengthen solutions for young people and those who care about them.