Aligning Money
Best Practices Discussed at our Children's Cabinet Summits
Fiscal mapping starts new conversations.
It can be difficult for communities to understand where resources are coming from and where they go. In any state or community there are federal, state, local or private funding streams supporting youth. Without purposefully mapping those funding streams it is hard to know how to coordinate them most effectively. Fiscal mapping all of the resources coming into a given geography based on goals and targets can help make sense of the big picture of funding. Policymakers can use this information to make budget decisions, fill gaps in services, drive toward particular shared outcomes or blend and braid funding for greater impact. Many officials find it illuminating to see the overall investment in an area and understand what type of resources are available. It is generally even more worthwhile to institutionalize the process so that informed decisions are made on an annual basis.
Fiscal mapping is art not science.
The task of identifying and understanding the purpose of funding streams is less of a science and more of an art. Communities must grapple not only with what "counts" as an investment in children and youth, but also which metrics will help them know whether those investments are working. Convening the players and verbalizing the questions, as Denver's Children's Cabinet has learned, in itself is an extremely valuable exercise. Engaging key stakeholders in discussion about their common desired outcomes for children and youth and common ways of reporting on budgets and investments, looks different and serves distinct purposes in every community.
Dedicated funding streams are untapped opportunities.
Many participants were interested in ways to move past federal and state cuts on funding streams that focused on children and youth. These cuts can have huge implications and local leaders often need to increase their support for these services in response. More than two dozen communities have put together dedicated funding streams and it appears that voters have a much higher tolerance for local tax increases to pay for children when it is in their own community. In addition, some elected officials are making this a priority, as did Philadelphia's Mayor, making it the first city to pass a soda tax after a campaign that focused on what the money could be used for to support kids, rather than the potential public health benefits of      this tax.
Blending and Braiding funds can lead to new solutions.
Blending and braiding funding streams involves pooling public resources together to fund programs that cut across policy silos. Many participants were interested in how they could move funding decisions beyond simple measures of compliance and into an outcome-focused space. Participants can start small and demonstrate the value of braiding different funding streams to meet a bigger goal or outcome as a first step, eventually moving toward blending. This allows local providers to have a more flexible, less bureaucratic and larger pool of funding to meet the diverse needs of a population.
Examples Shared at our 2016 Children's Cabinet Network Summit
The Denver Mayor's Office for Children conducted a fiscal mapping project to collect information from 22 city agencies and determine which programs aligned to the mayor's goals for children and youth.
Philadelphia has developed a new soda tax after a long public campaign that will provide funds for new children and youth services.
The Berea, Kentucky region utilizes the Promise Zone and Promise Neighborhood programs to access federal funding, but also better manage the funding they already have. The rural community has utilized these initiatives to support back end infrastructure and align community organizations.
Tennessee's Commission on Children and Youth undertook a resource mapping project that outlines spending in all state agencies on children by source, outcomes, service type, age group, etc. The state can then reference this big picture view on spending when allocating its next budget.
The Children's Cabinet and Trust Fund in Kansas created a new sustainability tool box for its community partners on finding and maintaining funding. The organization also reorganized its RFP process to incentivize matching funds at the community level.
Rhode Island worked to incorporate Medicaid funding into their child welfare programming in order to improve service capabilities.
Ohio's Family and Children First Council is experimenting with allowing local counterparts to pool funding resources as a means to increasing funding flexibility.
Examples Shared at our 2015 Children's Cabinet Network Summit
The Baltimore Mayor's Youth Cabinet which brings together the critical agency heads in the city completed two annual Baltimore Children's Budget documents that prioritizes investments in a collective set of outcomes for children and youth.
Hennepin County, Minn. recently conducted a Fiscal Map of Hennepin County Youth Supports and will conduct a follow up in the next year.
Montgomery County's Office of Management and Budget compiled a Positive Youth Development  Budget for their county.
 St. Louis County Children's Fund shared their experiences in the passage in 2008 of a special county sales tax to support children's mental health services which now generates approximately $40 million a year for these services and is managed by an independent board.
In 2000 voters in Broward County approved the creation of the Broward Children's Services Fund an independent taxing district which now generates approximately $65 million a year for a full range of supports from early childhood through young adulthood.
 Cuyahoga County's Social Impact Bond is worth mentioning as the first county to create one of these types of agreements focused on youth in foster care. The group will continue to watch as this SIB experiment unfolds.
At the state level, there are a number of children's budget analyses or fiscal maps worth tracking, to include: New Mexico Children's Cabinet Report Card and Budget ; the Tennessee Resource Map of  Expenditures for Children and Youth; and Mass Budget's Children's Budget.
Dedicated public funding for broad child and youth services is less common at the state level. However, the Virginia Comprehensive Services Act is a good model to look to that allows for local determination of the best use of the funds.
At the federal level, Performance Partnership Pilots allow sites to blend and braid funding and get rid of policy barriers that stand in the way of achieving outcomes for disconnected youth.
Tools and Resources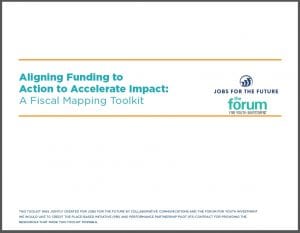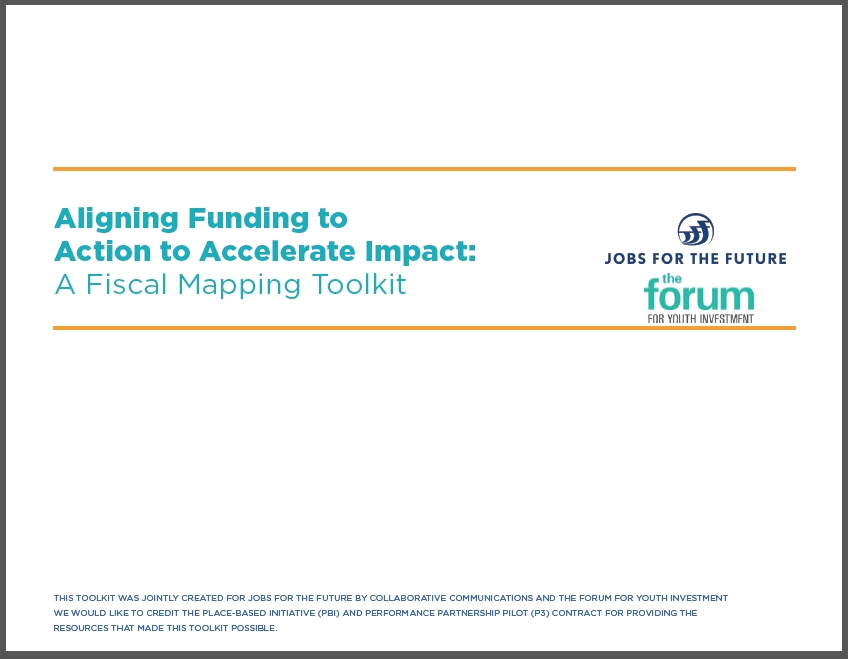 Fiscal Mapping:
Dedicated Funding: