READY BY 21 COMMITMENTS
Over the years, we've become more explicit, if not aggressive, in our belief that to change the odds we need to set our sights on providing opportunities that advance equity, not just equality; quality, not just access; and readiness, not just credential completion or "seat time." In all of this, the focus must be not only on investing in young people but on involving and engaging them fully in the work.
EQUITY
Achieving equal outcomes requires equitable opportunities. It also requires leaders to use a equity as a lens informing all of their decisions as they move ideas to impact.
ENGAGEMENT
Young people and families are change agents, not just clients. Leaders must engage them along with all key stakeholders – within and across organizations, systems, and sectors.
QUALITY
Leaders must assess and continuously improve quality, reach, and impact across all places young people spend their time.
READINESS
Young people are ready when they can demonstrate the abilities they need to meet life's demands. "Problem free isn't fully prepared" and preparation for "next" is more than a diploma.
THE READY BY 21 THEORY OF CHANGE
Changing the Odds for Youth by Changing the Way We do Business
To get all young people ready to achieve better outcomes, we must improve the quality and quantity of family school and community supports.  To improve those supports, we must fundamentally change the way leaders do business for young people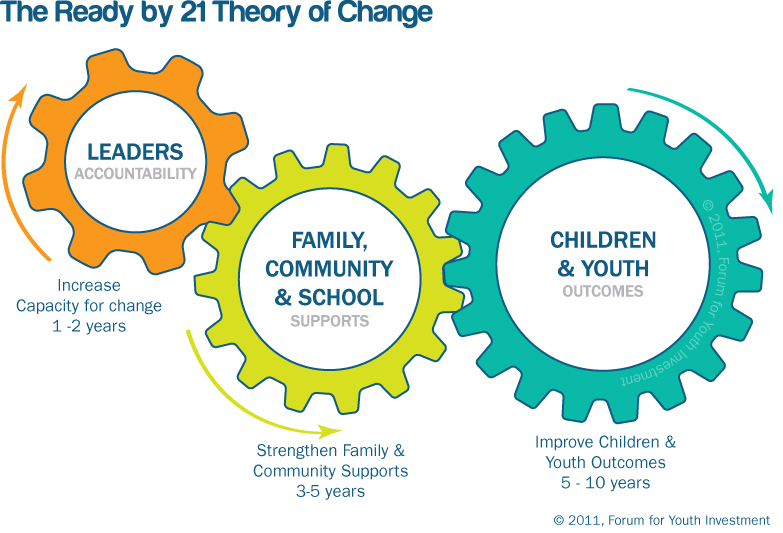 THE READY BY 21 PRINCIPLES
The key ingredients that help leaders think differently, act differently and act together to achieve equity, engagement, quality and readiness.
LEADERSHIP MATTERS
Challenge champions at all levels of influence to manage complexity, take informed risks and put what is good for young people at the center of their decision-making.
FAMILIES MATTER
Recognize children grow up in families and communities, not programs and schools.
DEVELOPMENT MATTERS
Invest early and often. Take a whole child approach as young people grow socially, emotionally, cognitively, physically, and civically – from early childhood through young adulthood.
EVIDENCE MATTERS
Adapt evidence-based, reality-informed policies, processes & practices. Make data-driven decisions, using disaggregated and new data to make the invisible visible.
ENVIRONMENT MATTERS
Recognize that the characteristics of both formal and informal environments make a difference, and experiences in one environment can have an impact on how young people respond in another.
ASSETS MATTER
Build on strengths, don't just focus on problem-reduction.
ADVOCACY MATTERS
Inspire, inform and engage the public and policymakers with powerful stories and data.
ADULTS MATTER
Recruit, train and retain good staff and volunteers. Build their expertise in child and youth development.
IDENTITY MATTERS
Support the development of an integrated sense of identity.
PARTNERSHIPS MATTER
Forge common agendas to bridge silos and bring about systemic change. No one department, organization or sector can provide young people everything they need to succeed.
ALIGNMENT MATTERS
Coordinate efforts and align resources toward common, youth-centered goals.
AGENCY MATTERS
Support young people as agents in their own learning and development, and as powerful agents of change in their schools, community and society.
Related to our Key Ideas is our continued work around the National Commission on Social, Emotional & Academic Development. We are working to develop simple, accessible and effective tools that draw from research that help all of us translate the National Commission's work into action agendas that resonate with community partners.
Check out some resources for youth development champions