Behind the Numbers: What the Latest Opportunity Index Tells Us About Our Communities
The 2019 Opportunity Index, released in August 2020, is a multi-dimensional measure of opportunity that includes indicators of economic, educational, health, and civic circumstances. Developed by Opportunity Nation, a campaign of the Forum for Youth Investment, and Child Trends, the Index provides data on what opportunity looks like in nearly every county in the United States.
In many places, the overall opportunity scores masks' the disparities between white residents and residents of color.
Minnesota, the top-scoring state in the Index, is a good example of this challenge. George Floyd's murder by a Minneapolis police officer in late May sparked protests, which quickly spread around the country. These protests reenergized support for the Black Lives Matter movement, which demands an end to systemic racism and police brutality and made clear that for many Minnesotans the time for change was way past due.
So, how can Minnesota score so highly if long-standing inequalities there have motivated protesters around the country to stand up and ask for change? In this blog, we explore what is so often missed when data by race and ethnicity is limited: success as a whole does not always mean success for all. Without looking closely at who has access to opportunity, we can miss the structural inequalities that perpetuate disparities and which must be addressed if opportunity is truly going to be available for all.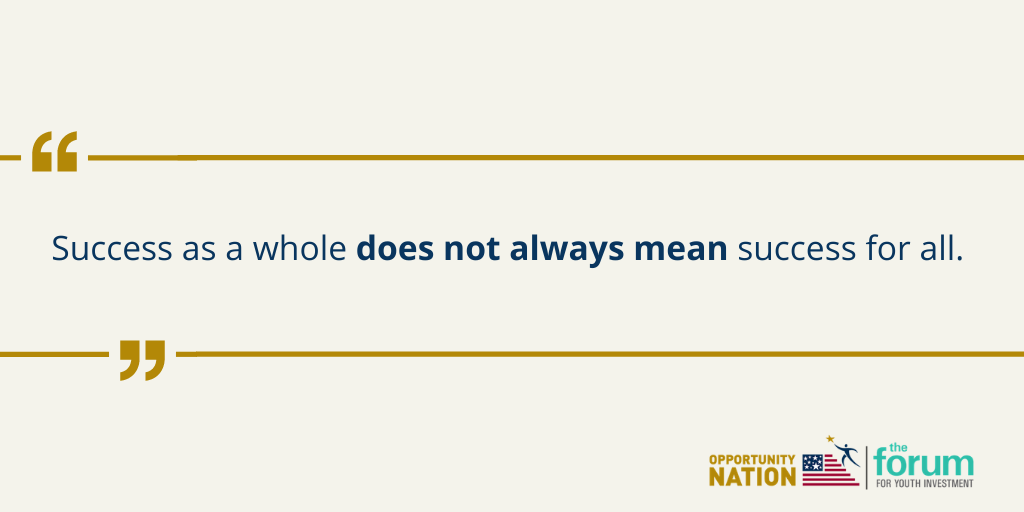 Opportunity Youth: The only individual item in the 2019 Index that Minnesota is the top scorer on is low rates of youth disconnection; but there are large differences when we examine outcomes for white residents versus residents of color. For instance, Minnesota ranks 23rd when it comes to the percentage point difference between Black and white youth, and 45th when it comes to the disparity between American Indian and white youth. If we were only to look at the overall measure, we might assume that very few young people between the ages 16 to 24 in the state are "Opportunity Youth," or young people who are disconnected from both school and the workforce. Overall, we would be correct; there are fewer young people disconnected as proportion of the whole than in other states. However, this is driven primarily by white youth, who make up 80 percent of the population.
Of 25 major metropolitan areas in the country, the Minneapolis metro area had the second highest rate of disconnection among Black youth. Statewide, 5.8 percent of white youth in Minnesota were neither working nor in school in the 2014-2018 ACS data, while 27.2 percent of American Indian and 12.1 percent of Black youth were, and these numbers have likely increased during the COVID-19 pandemic. Many factors – familial, communal, educational and systemic – drive disconnection and limit young people's opportunities for advancement, especially for Black youth.
Incarceration: While Minnesota's statewide incarceration rates are among the lowest in the nation, the ratio of Black to white incarceration is one of the highest.  Minnesota has one of the lowest incarceration rates of any state (6th) and it has middling performance (ranked 16th) in terms of Black incarceration but the ratio of Black to white incarceration (11:1) is the 4th highest in the United States.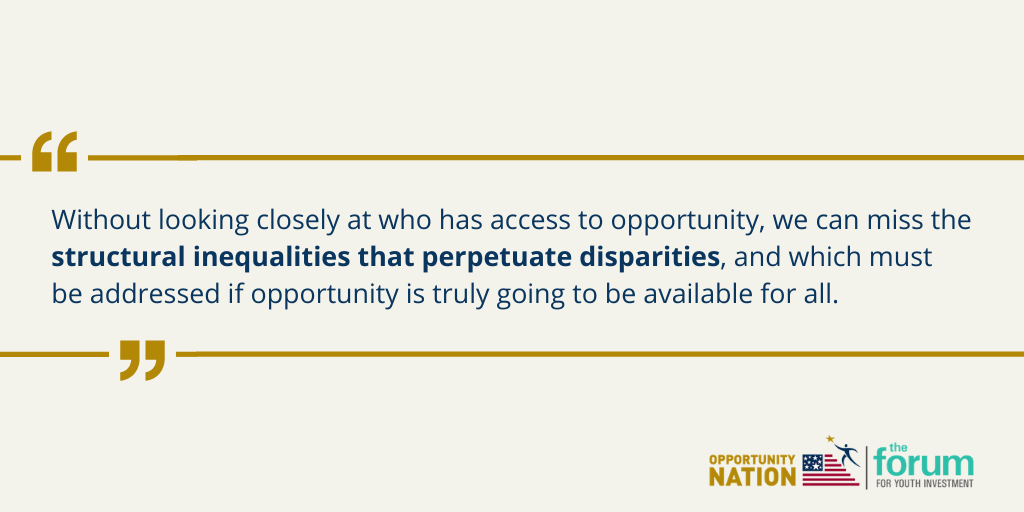 Put another way, if you looked at 100,000 white Minnesotans, only 216 are incarcerated; but, of every 100,000 Black or American Indian Minnesotans, over 2,000 are incarcerated. This trend is not new: Since 1978, "the Black incarceration rate [in Minnesota] has increased 47 percent." While it might be easy to blame higher crime on incarceration, these rates have increased even as crime rates state-wide have declined. Differences by race at every stage of the criminal justice process drive these differences: reporting of crime, police decisions to investigate, arrest and charge, offers of plea bargains, legal defense, and sentencing laws and practices. Laws such as mandatory sentencing based on prior convictions reinforce existing disparities making prison sentences longer and less flexible for Blacks and American Indians.
Health: American Indian women in Minnesota are nearly eight times as likely as white women to die during or immediately following childbirth and American-born Black women are 3 times as likely. These disparities are not driven by differences in age, comorbidities, or socioeconomic status. Instead, Child Trends researchers have noted that reducing implicit bias as well as addressing biologic stress in maternity care settings are two strategies that might reduce these disparities. Infant mortality rates for Black and American Indian Minnesotans are also higher than for other racial groups in the state and, again, these outcomes hold even when controlling for prenatal care, mothers' income, and mothers' education. Many researchers have concluded that racism and stress are key factors driving these disparate outcomes as well.
We also see these disparities in domains outside of health. For example, through racially restrictive housing covenants, redlining, and highway construction, Black communities were weakened throughout the Twin Cities metro area limiting the ability to accumulate wealth. More than three times as many white Minnesotans own their homes.
These opportunities highlight how systemic access to opportunity, or lack thereof, shapes our neighborhoods, our lives, and our wellbeing.
The Index offers critical data for understanding—and strengthening—our communities, but in order to capture the full picture of who has opportunity, we must disaggregate by race. Only then can we begin to assess whether we offer access to opportunity for all people.
Find out how your community measures up. Visit OpportunityIndex.org to see the latest release.
The Opportunity Index is an annual report developed by Opportunity Nation, a campaign of the Forum for Youth Investment, and Child Trends. The Index provides data that show what opportunity looks like in nearly every county in the United States.
---
This blog was developed with the help of the Child Trends' team that supports the Opportunity Index. We would like to acknowledge Hannah Lantos, Salomon Villatoro, and Hannah Rackers for their support in the analysis included in this post.

Delbria Walton, the Forum's Sr. Policy Associate, leads our Opportunity Nation initiative. In this role, she supports communities, young adults, businesses, nonprofit organizations, and policymakers by connecting them with the Opportunity Index data to support the call for opportunity. Delbria also engages the organization's 350+ coalition members, to build capacity, community, and a case for increased health, economic, community, and educational opportunities for America's 4.5 million opportunity youth. More on Delbria.