Throughout 2020, the combination of COVID-19, the economic recession, and increased racial reckoning have further revealed the systemic inequities and injustices built into our current systems. Yet, these events have also demonstrated the resilience and resourcefulness of families and of the community-based organizations that work with them, in concert with and independently of schools.   
These forces cry out for a redesign and reimagining of all the systems that support our children and families and educate and prepare our youth. Developmental and learning science tell an optimistic story about what all young people are capable of. Because researchers know so much more about the brain and development than they did when the 20th-century U.S. education system was designed, we can now use this knowledge to not only redesign that system, but affirm a healthy learning and development ecosystem that fully acknowledges the role of families and communities as instrumental places for engaged learning. As learning is not simply content mastery or memorization but, ultimately, about meaning making—connecting new information and experiences to those that have come before—an awareness of what young people are experiencing in the broader ecosystem is essential.  
This playbook suggests a set of design principles that were developed by a group of educators, practitioners, scientists, and parents, building on the knowledge we have today and the contributions of many in the field to nurture innovations, new models, and new enabling policies.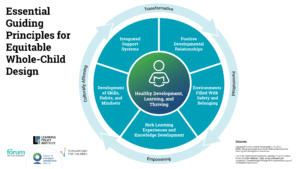 These principles are already being applied in places where innovative approaches to learning have taken root. In this playbook, we explore how these principles are the nonnegotiable starting points for community-based settings, including how these principles are being explicitly used to engage and validate learners who have been marginalized or "othered" by the traditional education system.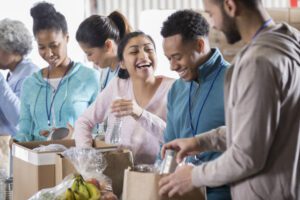 Like Design Principles for Schools: Putting the Science of Learning and Development Into Action does for school settings, this playbook offers framing for how to think about these design principles in the context of the diverse structures and complex array of programs, organizations, and institutions operating in the "community" space. This includes both a typology for community-based settings and a comparison of this somewhat idiosyncratic array of settings to the more recognizable features and factors of the public education system. With the aim of promoting a more healthy learning and development ecosystem co-created by young people and adults across family, school, and community settings, we close with a discussion of the power of partnerships.   
In this playbook you will find: 
Overview of the Guiding Principles for Equitable Whole Child Design

 

An Exploration of Community-Based Settings, including: 

 

Applying Design Principles in Diverse Settings

 

A Typology of Community-Based Settings

 

Common Elements that Vary Across Schools & Community Settings

 

User Tips to the Playbook

 

The Guiding Principles – Chapters that discuss the key principles and practices related to each essential component of whole child design.

 

Positive Developmental Relationships

 

Environments Filled with Safety and Belonging

 

Rich Learning Experiences and Knowledge Development

 

Development of Skills, Habits, and Mindsets

 

Integrated Support Systems

 

Levers of Change: Enabling Conditions to Accelerate the Implementation of Equitable Whole Child Design Across the Learning Ecosystem

 
This

 

research

 

was

 

supported

 

by

 

the

 

Chan

 

Zuckerberg

 

Initiative

 

and

 

the

 

S.

 

D.

 

Bechtel,

 

Jr.

 

Foundation. 

We 

are grateful to them for their generous support. Additional support to create Design Principles for Community-Based Settings was provided by The Wallace Foundation and the S.D. Bechtel, Jr. Foundation as 

a project of

 the Forum's Readiness Projects. The ideas 

voiced 

here are those of the authors and not those of our

 

funders.