The Federal Data Strategy Year-One Action Plan: What It Is, Why You Should Care, and How to Weigh In
The Forum for Youth Investment (Forum) is excited to continue our blog series on new perspectives on the use of evidence in policymaking. This series expands on findings from the Forum's 2017 Managing for Success report as well as key themes from our subsequent events and publications on evidence-based policymaking.
More than a year has passed since the federal government announced its goal of developing a comprehensive strategy for using and managing data to deliver on mission, serve customers, and steward resources while respecting privacy and confidentiality. Now the government has released a draft year-one action plan and is seeking public input on its scope and content. This blog summarizes the draft year-one action plan and explains how members of the public, researchers, interest groups, and state and local policymakers can offer feedback.
The action plan follows the principles and practices that were already developed as a guiding vision for the entire government over the long-term. The 10 principles focus on the Federal Data Strategy's three priority areas: ethical governance, conscious design, and a learning culture. These principles establish norms and expectations to guide agency data and evidence work. The 40 practices serve as a middle ground between the guiding vision and individual agency action steps by detailing how agencies can enact these principles in their regular activities.
How does a data strategy become reality?
The year-one action plan helps agencies —individually and together— implement the strategy's vision with specific steps to bring these principles and practices to life. The first action plan lays the foundation for implementing the Data Strategy in full over time through 16 steps that "align existing efforts and establish a firm basis of tools, processes, and capacities to leverage data as a strategic asset."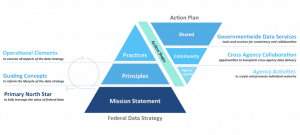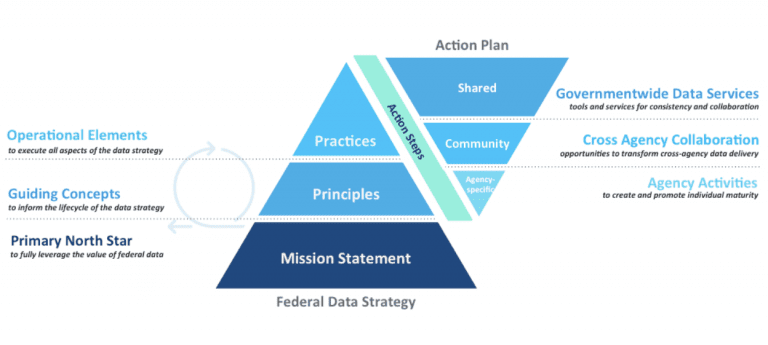 What Are the Steps and Who Is Taking Them?
Action steps can be categorized as shared actions, community actions, or agency-specific actions based on how many agencies are needed to carry out the action as well as whether or not the action will benefit one or multiple agencies.
Action steps in the draft plan describe the action to be taken, the desired result, the entity responsible for completing the action, relevant practices, identified metrics for measuring implementation progress, and a proposed timeline for completion.
Shared Actions (Government-Wide Data Services) – Designated entities will develop and share government-wide resources and/or tools for implementing the Federal Data Strategy related to governance, ethical data management and use, data protection, workforce training, streamlined access to federal data assets, and the establishment of data inventories and data cataloging.

Action 1: Create an OMB Data Council
Action 2: Develop a curated data science training and credentialing catalog
Action 3: Develop a data ethics framework
Action 4: Develop a data protection toolkit
Action 5: Develop a repository of federal data strategy resources and tools
Action 6: Pilot a one-stop standard research application
Action 7: Pilot an automated inventory tool for data.gov
Action 8: Pilot standard data catalogs for data.gov

Community Actions (Cross-Agency Collaborations) – Specific federal communities will improve the management and use of specific data asset portfolios including geospatial data and financial management data.

Action 9: Improve data resources for AI research and development
Action 10: Improve financial management data standards
Action 11: Improve geospatial data standards

Agency-Specific Actions (Agency Activities) – Federal agencies will begin working across silos to determine how they can better support their missions and serve stakeholders by making better use of the Federal Government's full portfolio of data assets. Agencies will be investing in necessary infrastructure improvements, including workforce training and improvements related to data protection and access.

Action 12: Constitute a diverse data governance body
Action 13: Assess data and related infrastructure maturity
Action 14: Identify opportunities to increase staff data skills
Action 15: Identify data needs to answer key agency questions
Action 16: Identify priority datasets for agency open data plans
Do the Action Steps Point in the Right Direction?
The draft Action Plan calls for important capacity-building needed to follow through on the Forum's primary recommendations from our Managing for Success report. Below are key recommendations that the Action Plan could help to advance:
Integrate multiple types of evidence for decision-making purposes. The first action step, creating an OMB Data Council, ensures that OMB "provide[s]…a coordinated voice and common guidance" to agencies across its statutory offices. This council will ensure that OMB has an entity that can address data and evidence issues "that cross agencies' and OMB's statutory functions" or "inform government-wide management and budget priorities." Currently, different types of evidence (such as programmatic data, statistics, or evaluation) are often used in siloes that may not interact with one another or build on each other's efforts. These silos can compound fragmentation that may already exist across agencies. An OMB Data Council could help bring down these silos and reduce fragmentation.
Further steps that task specific agencies with spearheading trainings, frameworks, toolkits, repositories, and pilots will enhance implementation through access to best practices and lessons learned from policymakers situated across the federal infrastructure for evidence.
Use evidence for improvement. The community actions (cross-agency collaborations) includes action step 10 related to results-oriented accountability for grants that encourages agencies to promote evaluations, measure progress, share lessons learned for future projects, and support innovation. Grants are one of the most prominent ways federal agencies interact with state and local governments as well as non-governmental partners.
These reform efforts will allow agencies to better embed practices meant to encourage grantees to improve their efforts over time. The Forum has published a number of case studies that encourage federal agencies to think about what types of evaluations are most useful for grantees, how progress should ultimately be measured, and what types of supports grantees need to actually innovate.
In addition, action step 15 supports the learning process by having agencies identify needed data to answer key questions. Depending on the questions that agencies identify in their learning agendas, this requirements could significantly advance how agencies use evidence for improvement.
Elevate evaluation. The final set of action steps take concrete action to elevate evaluation within individual agencies. Action step 14 encourages agencies to develop their staff's data skills to "support high quality analysis and evaluation," including through tools and dashboards, training and education, on-the-job learning, participating in intentional data communities, and hiring and retention flexibilities. The Forum has also published a case study on the importance of elevating evaluation in order for policymakers to make sound decisions based on research and evidence.
The next action step encourages agencies to identify the data needed to answer priority questions in their learning agendas, which are required in the Foundations for Evidence-Based Policymaking Act. Learning agendas elevate evaluation by having agencies determine key evaluation questions needed to advance their policy priorities. Agencies can then better consider staffing, funding, and other evaluation capacities after these agendas are finalized.
How Can You Weigh in on the Action Plan?
The Federal Data Strategy's Year One Action Plan is still being finalized. Members of the public can still comment on the plan until July 5th, including on the overall scope and content of the action steps. The government is actively asking the public to:
Identify any additional fundamental actions to implement the Federal Data Strategy that are not included in this draft Year-1 Action Plan and explain why.
Identify any additional actions that would align with or complement ongoing Federal data initiatives or the implementation of new legislation, such as the Foundations for Evidence-based Policy Making Act and explain why.
Identify any actions in this draft Year-1 Action Plan that should be omitted and explain why.
For each action, provide any edits and additional detail to ensure that they accurately and effectively describe needed activities, responsible entities, metrics for assessing progress, and timelines for completion.
For each action, provide information about the implementation resources necessary to ensure success of these Action Steps.
Organizations and individuals alike can comment on the year one action plan here. The Data Coalition has also partnered with the White House Office of Management and Budget to convene a public forum where individuals can offer feedback on the year one action plan in person. Registration for the July 8th event is available here.