State Efforts to Track Workforce Outcomes: Lessons Learned in Pursuit of a National Longitudinal Database
According to the Education Commission of the States, 40 states have adopted a State Longitudinal Data System. A State Longitudinal Data System (SLDS) is a compilation of data over time from at least two state systems, including early care and education, K-12 education, post-secondary education, and/or workforce. The data can be used to inform various policy issues, including college and career readiness, high school feedback reports, kindergarten readiness, and other information on outcomes for students across the education and workforce spectrum. In addition to informing policy decisions, data from SLDSs can be used to examine the effectiveness of various programs or interventions and can support continuous quality improvement over time.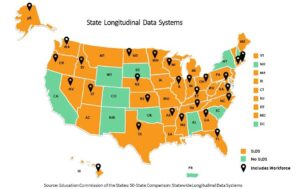 All SLDSs contain information from at least two education systems and 29 states also include workforce data to provide a picture of outcomes beyond education. Several states, such as Connecticut, Indiana, and Kentucky, have been effective in utilizing this data.
Connecticut's P20 WIN brings data together from 10 participating state agencies to answer various policy questions. This policy analysis includes student readiness through transitions across the K-12 and workforce systems. In addition to education and workforce data, P20 WIN includes child welfare and social services data to offer a more complete picture of youth outcomes across systems.
Indiana's Performance Management Hub is a clearinghouse of data across state agencies and includes the Education and Workforce Development database that contains data from early childhood through the workforce. From that data, the state releases college readiness reports and a dashboard looking at college-going outcomes for students.
Kentucky's Center for Statistics (KYSTATS) was created in 2012 to collect and link data across agencies, from early care and education to workforce. The data collected aids policymakers, state agencies, and the public in making informed decisions. The 2023-2025 research agenda includes applying equity in access to data and outcomes across various demographic groups and using predictive analytics to understand transitions between systems, including high school to postsecondary to observe readiness and education to employment to evaluate participation and wages.
These state examples also highlight the varying nature of SLDSs across the country. With differing funding levels, requirements for data collection and reporting, and privacy concerns, tracking youth outcomes through education and into the workforce has been challenging and inconsistent. Further, a study by Mathematica highlights the challenges of relying on administrative or survey data for adult programs under the Workforce Investment Act, now the Workforce Innovation and Opportunity Act (WIOA), due to the lack of longitudinal comparison. These limitations are compounded when looking at WIOA youth programs that require matching of data from K-12, when the youth are considered minors, through postsecondary and workforce. One solution to the disparate systems is to create a national longitudinal database through WIOA to track workforce outcomes of youth long-term.
For more than two decades, states have adopted SLDSs to support state policymaking, student academic achievement, and workforce outcomes. They have proved to be effective tools for states, however, due to inconsistencies in funding and differing state requirements, a national longitudinal database will be needed for policymakers to effectively track youth workforce outcomes long-term. Lessons learned from state efforts to track outcomes from early childhood through workforce, both opportunities and barriers, will be critical to standing up a national database.