The Forum for Youth Investment Welcomes Mishaela Durán as New President & CEO
US Department of Health & Human Services Leader to Succeed Karen Pittman
WASHINGTON, DC – The Forum for Youth Investment is pleased to announce Mishaela Durán will become the next President & CEO and will advance a comprehensive vision for changing the odds that all young people are ready by 21 for college, work, and life. Durán is a recognized leader and champion in the youth development field.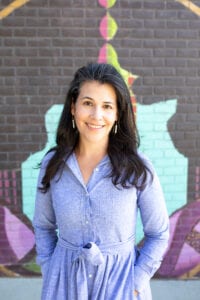 "I am thrilled to be joining the Forum for Youth Investment as the next CEO, building off of Karen Pittman's incredible legacy and advancing a racial equity agenda to unleash the full potential of children and youth so they are ready for college, work, and life," said Mishaela Durán. "As a Latina, with lived experience in the child welfare system and a leader in education and human services, I understand firsthand the importance of harnessing the power across sectors and systems to change the odds for children and youth. We have an unprecedented opportunity to reimagine youth-serving systems through a racial equity lens."
A native of Apache County, Arizona, one of the poorest counties in the nation, Durán credits her background and experiences with intergenerational poverty and as a youth in foster care to fueling a lifelong passion to help young people of color find their way in the world.
"Mishaela is exactly what the Forum needs at this junction in its history. I'm in awe of the breadth and depth of her experience and drive," said Karen Pittman, the Forum's co-founder, former CEO, and now senior fellow. "The Forum is in great hands and I have a powerful new ally as the next chapter in changing the odds for youth unfolds."
The Forum works to advance equity, research, policy, and practice across all the systems and settings that shape young people's lives. Durán brings with her extensive experience in youth development and youth policy issues in government and private organizations to lead that broad work. She is currently a senior executive on the U.S. Department of Health & Human Services Administration for Children and Families' leadership team, where she leads initiatives on issues including preventing and ending youth and family homelessness and advancing economic recovery and mobility.
"We are delighted to welcome Mishaela as the next President & CEO of the Forum for Youth Investment. She brings a wealth of experience and leadership in youth development in both state and federal government agencies, as well as executive positions in non-profit associations," said Judy Seltz, chair of the board's Transition Committee. "Following a comprehensive national search, the Board of Directors unanimously selected Mishaela to succeed Karen. We know that she will build on the tradition of excellence and commitment to equity so central to the Forum."
Prior to working at HHS, Durán was the Chief of Staff at the Council for the Accreditation of Educator Preparation where she provided leadership on strategic plan development and implementation, federal policy, governance, and communications. There, she established a 40-member commission of state superintendents, leaders from higher education, unions, and national associations, teachers, parents, and even critics of teacher preparation and accreditation. Durán also brings with her experience as the Interim Executive Director at the National Parent Teacher Association. Durán has worked on a broad range of youth policy issues with the National Network for Youth and the National Alliance to End Homelessness, and has served on the Forum's Board of Directors. Durán graduated cum laude from Yale University and earned a Master's degree in social policy at the Harvard Graduate School of Education.
"I have witnessed Mishaela's ability to strategically lead state relations and cross-cutting policy and initiatives within the Administration for Children and Families," said HHS Deputy Assistant Secretary, Debra Johnson. "Her compass of inclusion, equity and fairness is thoughtfully interwoven in the approaches she takes to ensure that the children and families we serve are at the center of our work. Recognizing the role that the philanthropic sector can play in advancing family economic mobility, Mishaela created the agency's first public-private partnership, bringing millions of dollars in resources to assist state human service commissioners with strategies to break down silos with the goal of advancing the economic status of the families we serve.  This partnership has been consistently lauded for its ingenuity and rich results at the highest levels within HHS."
Durán will begin with the Forum on September 7. The executive search firm Isaacson, Miller conducted the national search on behalf of the Forum.
**
Founded in 1998, the Forum for Youth Investment is a national nonprofit, nonpartisan "action tank" committed to changing the odds that all children and youth are ready for college, work, and life. It provides ideas, services, and networks that leaders need in order to make more intentional decisions that are good for young people. The Forum helps leaders increase their capacity to more effectively make the case for and manage the collaborative efforts that are needed to change the odds for youth; improve the alignment and appropriateness of child and youth policy agendas and investments; and strengthen programs' and practitioners' capacity to create environments in which youth thrive, across all the systems and settings where young people spend time. For more information, visit www.forumfyi.org.