Children's cabinets are convened in localities across the country as forums for increasing the efficiency and effectiveness of government efforts to improve child and youth outcomes.
In this network, members will be able to learn from both experts and one another about children's cabinets as a tool for improving both systems-level governance and population-level outcomes. Network members will have access to expert panels and roundtable discussions, peer networking opportunities, and exclusive resources, publications, and tools, and will convene in-person in July 2019.
If you are interested in joining the network or have additional questions, please click here to complete a short contact form and we will contact you with more information. The Local Children's Cabinet Network is co-managed by The Forum for Youth Investment (as part of its work aligning children's cabinets across the local, state and federal levels), the Education Redesign Lab at Harvard Graduate School of Education (as part of its fieldwork with communities including its By All Means consortium), and The Children's Funding Project. Please note that there is no fee to join this network thanks to the Forum for Youth Investment and the Education Redesign Lab at the Harvard Graduate School of Education.
For more information, visit localchildrenscabinets.org or contact LocalCCN@gmail.com.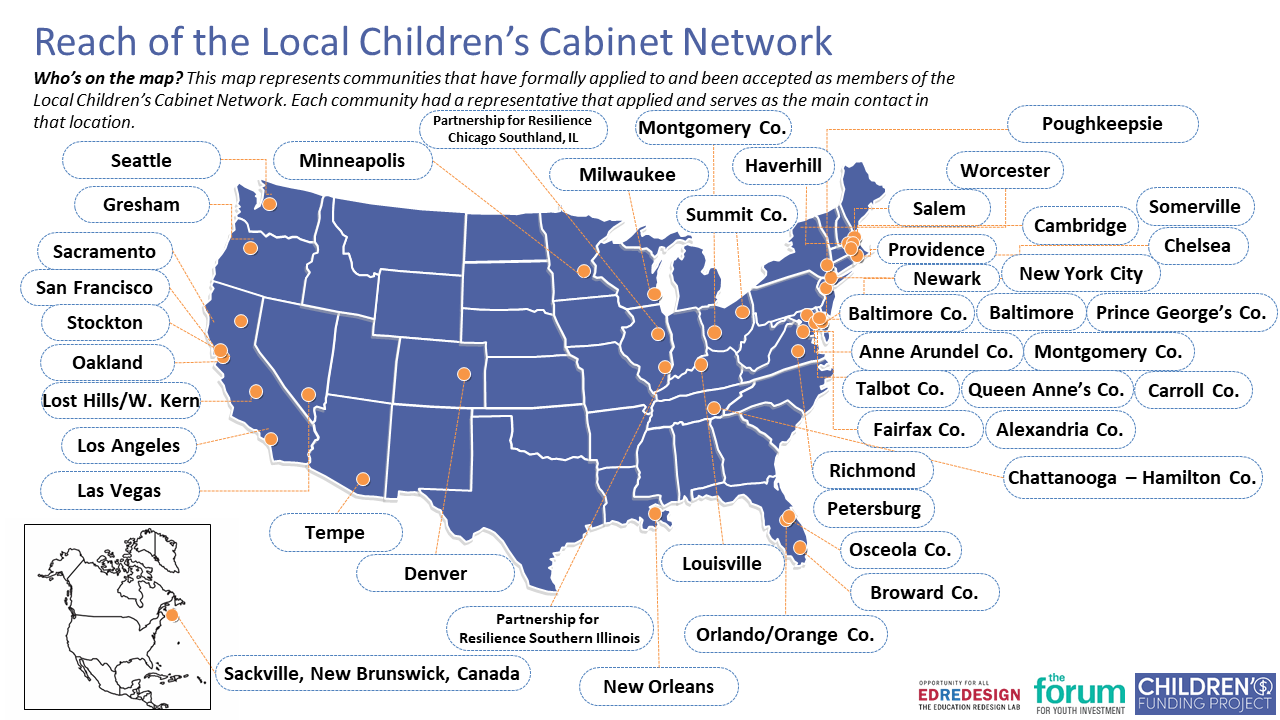 Alexandria, VA Children, Youth, and Families Collaborative Commission
Anne Arundel County, MD Partnership for Children, Youth and Families
Baltimore, MD Baltimore Children's Cabinet
Baltimore County, MD Local Management Board
Broward County, FL Children's Services County of Broward County
Cambridge, MA Coordinating Council for Children, Youth and Families
Carroll County, MD Local Management Board
Chattanooga, TN
Chelsea, MA Early Childhood Network
"Southland" Cook County, IL Partnership for Resilience
Denver, CO Children's Cabinet
Fairfax, VA Successful Children and Youth Policy Team
Gresham, OR
Haverhill, MA
Kern County, CA Children's Cabinet of West Kern
Las Vegas, NV The Children's Cabinet
Louisville, KY Evolve 502
Minneapolis, MN Minneapolis Youth Coordinating Board
Montgomery County, OH Family and Children First Council
New Orleans, LA New Orleans Children and Youth Planning Board
Newark, NJ Children's Cabinet
New York City, NY New York City Children's Cabinet
Orange County, FL Children's Cabinet of Orange County
Osceola County, FL Osceola County Children's Cabinet
Petersburg, VA Petersburg City and Schools Partnership
Poughkeepsie, NY Poughkeepsie Children's Cabinet
Providence, RI Providence Children's Youth Cabinet
Queen Anne's County, MD Community Partnerships for Children and Families
Richmond, VA Richmond Children's Cabinet
Seattle, WA Seattle Youth Cabinet
Summit County, OH Summit County Family and Children First Council
Talbot County, MD Talbot Family Network
Tempe, AZ Tempe Education Partnership
Worcester, MA Committee on Youth
Sackville, New Brunswick, Canada