Overview of the Intervention
The Youth Program Quality Intervention (YPQI), found effective in a randomized trial (Smith et al., 2012), is utilized by more than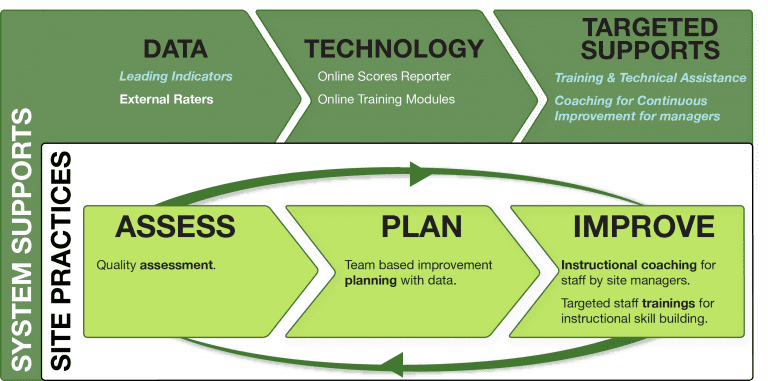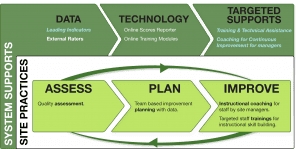 135 organizations across the United States, Canada, Mexico, and the United Kingdom as the foundation for quality improvement systems. The YPQI builds from a construct of quality and measurements for high-quality instruction within multiple levels of out-of-school-time (OST) programs. Using an Assess-Plan-Improve sequence (Site Practices) to help programs focus on and improve the quality of program offerings they provide for youth. Aligned training and technical assistance supports (System Supports) are introduced to drive performance within the established standards.
The YPQI offers networks an opportunity to engage in a process of continuous quality improvement with the goal of enhancing the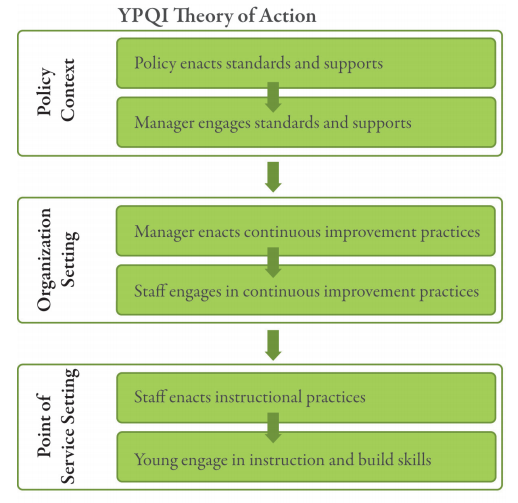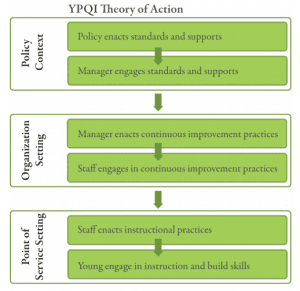 experience of youth and the skills of those who work with youth. This multi-level intervention –  combines training and assessment, and is informed by theory and supported by field research – can support programs to align their management, organizational, and instructional practices with a positive youth development model.
The Assess-Plan-Improve Sequence
The following steps guide the YPQI process:
 Prepare: Weikart Center staff help network leaders make decisions about how the system will work, based on local considerations and resources. For example, one network might train a large cadre of external assessors; another might focus more on Technical Assistance coaching.
 Assess: Managers and site staff attend training to learn to use the Youth Program Quality Assessment (Youth PQA) for program self-assessment and external assessment. Managers and site staff conduct program self-assessments at their sites using the Youth PQA, and select sites host external assessment visits. All data can be stored online using the Weikart Center's Scores Reporter, which can also be used to generate reports.
Plan: We encourage all staff who participated in self-assessment to attend a full-day Planning with Data workshop, facilitated by Weikart Center staff or local endorsed trainers. This workshop aims to demystify the assessment process so that staff feel empowered to implement changes aimed at improving quality of their programs. Participants leave the workshop with a draft improvement plan to take back to their sites, with goals designed to be attainable, measurable, and time-tracked.
Improve: In this step, managers and staff carry out their improvement plan. Staff also may attend aligned Methods workshops designed to strengthen skills and improve quality at the point of service. Managers may attend Quality Coaching workshops to learn how to better support their staff to implement quality practices with youth. Some networks have identified regional coaches who provide ongoing support and mentoring to program staff.