Home of the Kentucky Derby which takes place in early May every year, Louisville's twists on Southern cuisine has made the city one of the "10 Best New Food Cities" in America.  You can discover one-of-a-kind attractions like the legendary Churchill Downs, Louisville Slugger Museum & Factory, and the Muhammad Ali Center. Browse attractions by interest at Louisville's Convention & Visitors Bureau's webpage.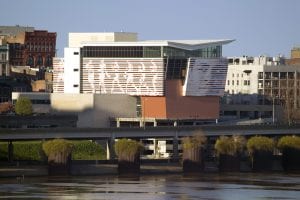 Their Urban Bourbon Experience™ features the world's only, city-wide trail filled with award-winning micro-distilleries, exhibits and craft cocktail destinations.  We will have hard copies of the Official Visitors Guide for your perusal near registration.
Below you'll find some recommendations from our local friends and partners for how to spend your time while in the Derby City.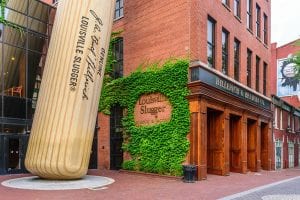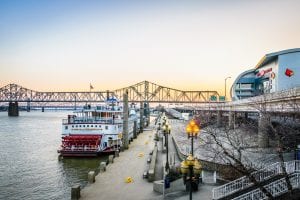 John Lincoln, Education Director, YMCA School Age Child Care, YMCA of Greater Louisville
3 of my favorite places to eat that are all local:
Grind Burger Kitchen located at 829 East Market in the NULU District is the best burger in the city for my money.  It's a quirky place with an extensive local beer list, however the star of the show are the sandwiches and sides.  Featured on Food Network's Diners, Drive Ins and Dives, Grind has great options for any taste, including the best vegetarian burger you can find.
Seviche is an upscale Latin restaurant featuring amazing seafood, steaks, and sides.  Everything served here is exactly how you would want a dinner to taste, including the desserts.  If you aren't on a restrictive budget, this place is where I would eat if I knew I was leaving the planet tomorrow.  It's simply the best restaurant I have ever eaten in.  Located in Louisville's historic Highland's district at 1538 Bardstown Road, this restaurant is owned and operated by nationally awarded chef Anthony Lamas.
Feast BBQ  is my favorite BBQ joint in the city.  Located in the NULU District at 909 East Market Street Suite 100, Feast offers everything you'd want in a BBQ restaurant.  Extensive beer list, amazing smoked meats, great bourbon selection, and incredible sides.  Try the collards and the vinegar slaw.  They'll change your life.
Matt Cody, Manager, Quality Coaching, Metro United Way
I really love this town, so I'm surprising us all in starting my recommendation by telling you to leave the state.  That's right, Southern Indiana has its own neighborly charm and you can walk there.  A short Lyft (or walk, scooter/bike rental!) of a mile and a half and you're at the Big Four pedestrian bridge. Stroll or roll across that and you're in the middle of their quaint downtown block and basically within sight of Parlour, Red Yeti, Goodwood, and a real treat: The Freeze Bar – a local couple serving up strong (virgin optional) delicious snow cones from a tiny space, but that's the best part – you're allowed to roam around town with these creations and enjoy the city, park and river.
Back on this side, the local breweries and distilleries are great and there's even an urban vineyard worth checking out – Old 502 Winery is close by, but for those looking for a more off-the-beaten-path watering hole, there are some smaller local haunts worth your time.
Third Street Dive, Barbarella, and Troll Pub are close and easy, while just yards away there is a swankier option if you can find it – Hell or High Water is an underground speakeasy behind a secret door with very subtle signage. (maybe reserve a spot here if more than 2 or 3 folks in a group)
You'll find the rest of the Louisvillians not downtown enjoying late night bar food and drinks at Zanzabar, The Back Door, and Mag Bar – attached to delicious Pizza Donisi. (If you're a pizza lover, another sure bet is Sicillian Pizza on 4th by the Palace)
Angie Ditsler, Director, Youth Success, Metro United Way
Swing by Louisville Glassworks at the corner of 8th x Market to check out the amazing glasswork of local artists. Walk up to the 2nd floor observation deck to watch the glassblowers in action. On your way back, peak in the side window of the Slugger Museum and Factory at the corner of 8th x Main to see the workers making Louisville Slugger bats.
Mike Degen, Data Integration Manager, Youth Success, Metro United Way
While bourbon is king in Kentucky, Louisville is also the home to some great craft breweries, many in the downtown area. One of my favorites downtown is Against the Grain, located on site at Slugger Field. Great for lunch too. If you're looking for a nice sit-down dining experience, Decca (owned by Top Chef alum, Annie Pettry) is always a winner. Sticking around after the conference? Louisville City FC, Louisville's pro soccer team, hosts the Tampa Bay Rowdies Friday night at the brand new Lynn Family Stadium in Butchertown. Check out the Louisville City website for tickets (If you go, I just might see you there).
TJ Delahanty, Manager, Youth Success, Metro United Way
Kentucky Bourbon is known around the world. If you are looking for unique swag to take home, join the self propelled Urban Bourbon Tour while you are in town. Pick up a Urban Bourbon Tour passport at the conference check in or around the corner of your hotel at the Visitor Center: 301 S 4th St, Louisville, KY 40202. Visiting any six of the local establishments on the list, many within walking distance of your hotel and getting your passport stamped (with purchase) will get you a free t-shirt like the one I am pictured in. Explore Louisville and get a free souvenir.